About Us
Welcome to Fun 4 Sun Coast Kids! Fun 4 Sun Coast Kids is the ultimate resource for finding fun stuff to do with kids in the New Port Richey, Florida area. New Port Richey has SO much to offer for young children, but much of it is not advertised, and many activities and businesses do not even have a website, so kids and their caregivers often find out about them through word-of-mouth or just happen to discover things on their own.
Casey and Brian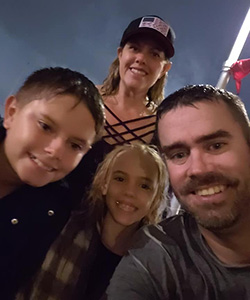 Hey Sun Coast Friends! We are Brian and Casey, the proud owners and operators of Fun 4 Sun Coast Kids! We have been living in this area since 2017, but are natives of the Tampa area, before Brian joined the Army. These two kiddos right here, Carson and Ciptyn, are the reason why we decided to take a leap of faith and start Fun 4 Sun Coast Kids. Being a military family who moved around a lot, each time we came to a new area, I spent hours searching for fun things to do with my kids. I thought to myself how grand it would be if it could all be found in one central location!
Thanks to a friend of mine, I came across Fun 4 US Kids! We looked into it and that is how Fun 4 Sun Coast Kids was born and became the site that we wanted to bring to this area. We wanted to help other local families and make it easy to find all the fun places, attractions and seasonal events, and resources offered around town. A comprehensive site for everything kids related, maintained and updated regularly!
The Sun Coast is such a beautiful place with tons of things happening for families. We hope that you enjoy the ease of finding all things kids, and come back to us time after time as a valuable resource to helping build your families memories!
Fun 4 Sun Coast Kids is part of the growing network of Fun 4 US Kids websites. To learn more about Fun 4 US Kids or to find more websites like Fun 4 Sun Coast Kids visit fun4uskids.com
If you know about a local business or program that's not listed in our directory, add a business or program to our directory. If you know about a great activity or event that's not listed on our calendar, add an event or activity to our calendar.
For information about paid advertising on Fun4SunCoastKids.com see our Advertising page for details. Your feedback, comments and suggestions are always welcome. This email address is being protected from spambots. You need JavaScript enabled to view it.!